Travelling from BCN Airport to Downtown Barcelona
The 📍Barcelona Airport (code: BCN) is named "Josep Tarradellas Barcelona-El Prat" and it is located 15 Km south west from the city center (📍Plaça Catalunya).
The airport has two terminals (T1 and T2) and both offer direct transportation to the city. An internal free shuttle is also available to commute between the two terminals.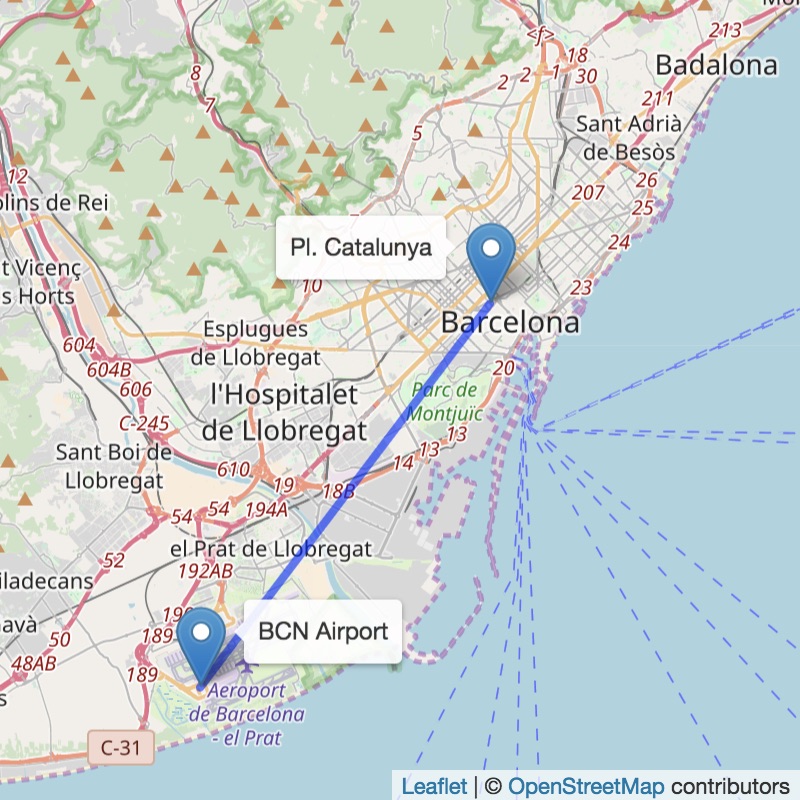 🚌 Aerobús
The average time per journey from the airport to Plaça Catalunya is 35 minutes and a single ticket costs €5.90 per person. Return tickets are available for €10.20 if you are planning to return within 15 days after the first trip (€1.60 cheaper than buying 2 single tickets).
Line A1 covers the route between Terminal 1 and Plaça Catalunya, whereas line A2 covers the route between Terminal 2 and Plaça Catalunya.
Aerobús operates between 5:00am and 0:30am all year long (including Sundays and Holidays) with a frequency of 10 minutes, and a higher frequency of 5 minutes for the A1 line between 6:50am and 9:45pm.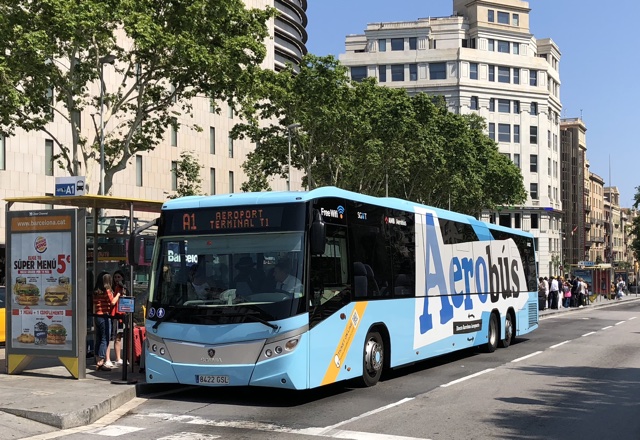 Aerobus stop in Pl Catalunya
🚊 Train
This is the cheapest option, but it only departs from Terminal 2. If you are landing in Terminal 1 and you want to save money, you can use the free shuttle from Terminal 1 to Terminal 2 and then take the train; simply allow for more time.
Rodalies Renfe R2 nord takes around 25 minutes between Terminal 2 and Passeig de Gràcia and it can be used with the T-casual, which can later be used move around the city with the same card. The T-casual is an individual travel card valid for 10 trips that cannot be shared with other travellers. The same train has an intermediate stop at Sants station.
The first train departs from the Aeroport station in Terminal 2 at 5:42am and there are train departures every 30 minutes between 6:08am and 11:38pm (6:08am, 6:38am, ..., 11.08pm, 11:38pm). From the city center, the first trail departs from Passeig de Gràcia at 5:08am, followed by another train at 5:28am, every 30 minutes between 6:02am and 10:32pm (6:02am, 6:32am, ..., 10:02pm, 10:32pm) and the last train at 11:07pm. Full Schedule here.
If you are arriving at Terminal 1, you may use the free shuttle from Terminal 2 to Terminal 1 and take this train.
🚈 Subway
Metro L9 Sud operates from Terminals 1 and 2 with a special ticket that costs €4.60 per passenger and connects to the rest of the subway lines. It takes approximately 1 hour to reach Plaça Catalunya changing to L1 at Torrassa station or L3 at Zona Universitària. The subway runs from 5:00am to midnight on regular days, until 2:00am on Friday nights and all night long during Saturday nights.
Subway Map
🚕 Taxi
Taxi is a good option if you prefer to go straight to your hotel or if you are travelling by night.
The trip time to Plaça Catalunya is around 30 minutes and the approximate fare with two suitcases is €29.
Taxis accept payment with Visa and Mastercard credit cards, but not all of them accept American Express. More information and fare estimations are available at AMB Taxi.
🚘 Cabify
Cabify costs approximately the same as Taxis and are not yet widely available in Barcelona as the number of licenses are relatively low due to the pushback exercised by traditional Taxis. In any case, if you already have an account with them, you may use their respective Apps to check for availability and prices.
Uber Ride
Uber suspended the Uber Ride service in Barcelona in February 2019 when the government ruled to differentiate VTC licenses from Taxi licenses.
🚌 City Bus
Line 46 operates from Terminals 1 and 2 and takes approximately 45 minutes to Plaça Espanya. This option is slower than the Aerobús, but it can be used with T-causal travel card, which is the cheapest option if you plan to move around the city with the same card.
🌖 Night Bus
For those travelling late, N18 operates from Terminal 1 and takes approximately 40 minutes to Plaça Catalunya. N17 also reaches Plaça Catalunya from Terminal 1, but it performs additional stops in-between.
Last updated:
December 2019